What companies run services between Schwetzingen and Enschede?
You can take a train from Schwetzingen to Enschede via Mannheim Hbf and Dortmund Hbf in around 6h 25m. Alternatively, you can take a bus from Schwetzingen to Enschede via Mannheim Hbf, Mannheim, Mannheim ZOB, and Frankfurt, Frankfurt central station in around 9h 23m.

FlixBus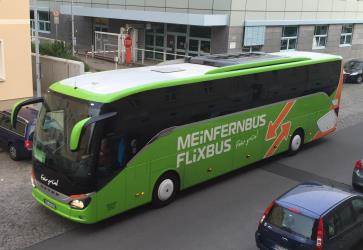 One of Europe's leading bus companies, Flixbus serves 2000+ destinations in 29 countries, including Germany, France, Italy, Austria, the Netherlands and Croatia and into Scandinavia and eastern Europe, as well as some US cities. Coaches have toilets, free WiFi and power outlets, plus snacks and drinks for purchase on board. Flixbus is a good choice for the budget-conscious traveller; purchase tickets in advance for the cheapest fares (note: there is no option to reserve a seat in advance).

Crnja Tours

Deutsche Bahn
Estimated price
22€ - 35€
German rail company Deutsche Bahn is known for its efficient and comfortable service. It offers many different types of rail transportation, including ICE or Intercity-Express for high-speed services between major cities and regions, IC (InterCity) for long-distance trains, RE (Regional Express) trains that connect regions and cities, and the S-Bahn rapid transit service. There are two main tickets on offer: the Flexpreis that has full flexibility, and the Sparpreis which is the cheaper, advanced fare (bookings usually open 6 months in advance for domestic tickets).