What companies run services between Fort Bragg and Maryland?
You can take a train from Fort Bragg to Baltimore via Fayetteville Amtrak Station and Washington Union Station in around 7h 37m. Alternatively, you can take a bus from Fort Bragg to Baltimore via Fayetteville, NC, Washington, Washington, Dc, Baltimore Downtown, Md, HAINES ST & WARNER ST eb, SMALLWOOD ST & W MULBERRY ST sb ns, and West Baltimore Marc Station Bay 3 in around 10h 9m.
Train operators
Estimated price
$45 - $65
Contact Details
---
About this operator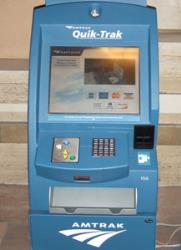 Amtrak is a rail service that connects the US and three Canadian provinces. Covering 21,000 route miles (34,000km) Amtrak operates more than 300 trains daily. These medium and long distance intercity services operate at speeds of up to 240km/h, to more than 500 destinations. Founded in 1971, it is based in Washington, D.C. and offers four classes of travel: First Class, Sleeper, Business and Coach. Ticket fares are divided into five subclasses: Saver, Value, Flexible, Business and Premium. Amtrak trains are known for their wide seats, plug-in power, big windows and storage capabilities.
Other operators
Estimated price
$27 - $33